Fuente: Student Conference on Conservation Science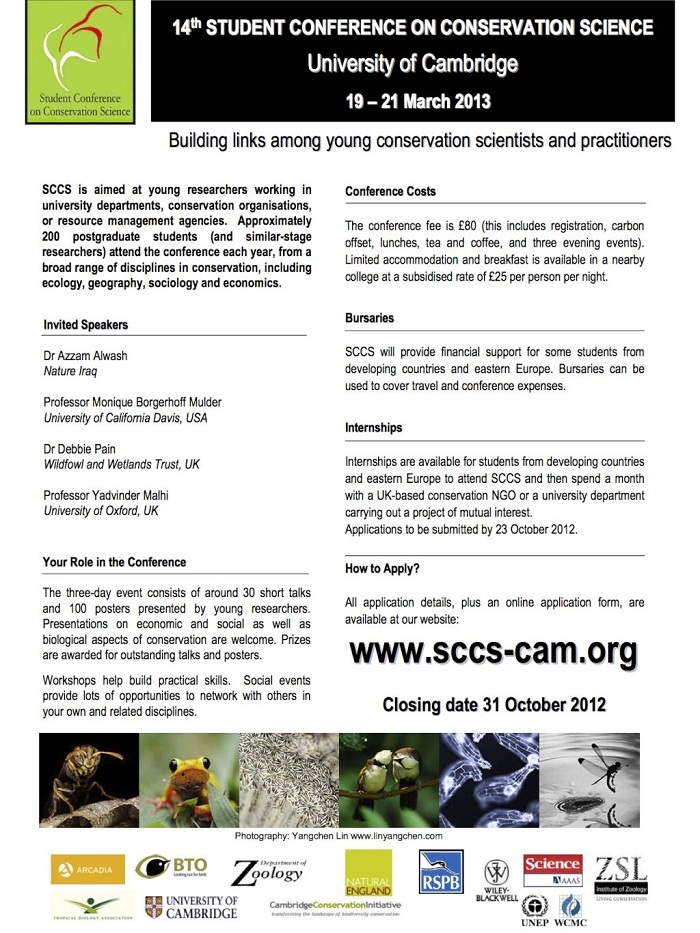 The 2013 conference
The next conference will take place on 19-21 March 2013, in the Department of Zoology, University of Cambridge.
Delegates and speakers come from all over the world to take part.
Professor Yadvinder Malhi (University of Oxford)
Dr Debbie Pain (Wildfowl and Wetlands Trust)
Dr Azzam Alwash (Nature Iraq)
Professor Monique Borgerhoff-Mulder (University of California at Davis)
Your contribution
The most important part of the three-day programme will be poster sessions and fifteen minute talks by students on any aspect of conservation science. Presentations of work in progress, from a broad range of countries, and from economic and social as well as biological aspects of conservation, will all be welcome. Besides the posters and talks, there will also be workshops, presentations by conservation NGOs and agencies and social events designed to give participants the opportunity to make new contacts in their own and related disciplines. Prizes are awarded to posters and talks of outstanding quality and relevance to conservation.
View our page on how to apply for the conference and prepare talks and posters.
If your presentation has been accepted, view our guide to help prepare talks and posters.
Costs and benefits
The conference fee of £80 includes carbon offset, registration, lunches, tea and coffee and three evening events. A limited amount of accommodation with breakfast will be available at St. Catharine's College at a highly subsidised rate of £25 per person per night. Reasonably priced evening meals are available nearby. We've been able to keep costs as low as possible, thanks to sponsorship by a number of organisations. Accommodation links can be found on getting here.
A donation on behalf of SCCS has resulted in the successful planting of 2 500 Spekboom in the Goedehoop region of the Baviaanskloof Nature Reserve, Eastern
Cape, South Africa.
Applications – the application process will open later in the summer of 2012.
Please fill in and return the application form by 31 October 2012 by 09:00 hrs GMT. On it, you are invited to submit a short abstract of your proposed talk or poster, but it is not essential to present a talk or poster in order to attend.
Bursaries
If you come from a developing country or eastern Europe you can also apply for a bursary (see application form) to assist with travel and other costs, but please note that we are only able to help a small number of applicants and cannot help those already based or on a scholarship in Australia, Canada, New Zealand, Western Europe or North America. Please view this table before applying to see whether you qualify. We will consider applicants only from Lower Income (LIC), Lower Middle Income (LMC) and Upper Middle Income (UMC) countries for bursaries.
Internships
Students from developing countries and eastern Europe may apply for an internship to enable them extend their visit to the UK after the conference in order to carry out mutually beneficial work with a conservation organisation or academic institution. Again we cannot help those already settled in or on a scholarship in Australia, Canada, New Zealand, Western Europe, North America or any developed (High Income) country regardless of their country of origin. Please visit our internship page for more details and view this table before applying as we will consider anyone from Lower Income (LIC), Lower Middle Income (LMC) and Upper Middle Income (UMC) countries for our internship programme. The internship period has to be for four weeks and is expected to begin straight after the conference. No pre-conference internships are allowed.